In a news release dated November 29, 2021, Stillwater Critical Minerals announced the Company had signed a definitive agreement with Heritage Mining Ltd. ("Heritage") whereby, subject to the earn-in requirements specified therein, Heritage can acquire up to a 90% interest in the Black Lake - Drayton project. An IPO is in progress with Heritage expected to commence trading in H2 2022.
Project Overview
137 km2 land package adjoining Treasury Metals' Goliath Gold Complex which hosts 2.1 million ounces of gold and 3.5 Moz silver (M&I)
30km of underexplored Archean greenstone strike
High-grade gold demonstrated in 127 drill-hole database, historic bulk samples
Direct road access, close to rail and power
Discovery and development of Rainy River lead the district in the 1990s, which is now over 10Moz and growing
---
The Black Lake–Drayton project consists of over 30 km of underexplored strike length in in the Abrams‐Minnitaki Lake Archean greenstone belt, along the northern margin of the Wabigoon sub-province. This highly-active gold belt is host to a number of well-known deposits including Goldlund-Goliath (Treasury Metals) and Rainy River (New Gold), both of which have seen substantial recent expansions. Over 20 million ounces of gold have been discovered in the past ten years in the area with the Rainy River Gold Project and Osisko's Hammond Reef leading the way.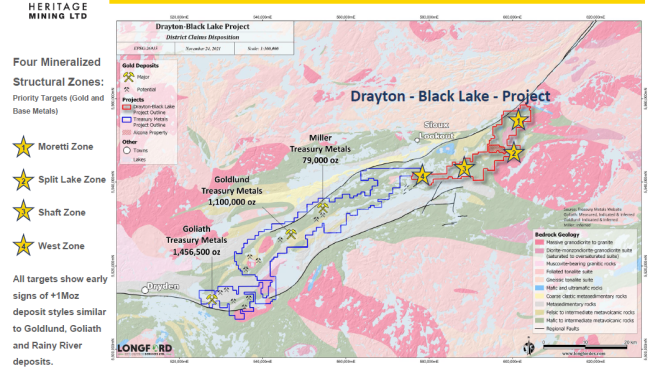 Black Lake–Drayton Claims Map
*Goliath Gold Complex NI 43-101 mineral resource estimate as reported April 14, 2022 - https://www.treasurymetals.com/news/treasury-metals-announces-updated-mineral-resource-122752/
**References to adjoining properties are for illustrative purposes only and are not necessarily indicative of the exploration potential, extent or nature of mineralization or potential future results of the Company's projects.