June 26, 2017 – Vancouver, BC – Group Ten Metals Inc. (TSX.V: PGE; OTC: DCGCF; FSE: 5D32) (the "Company" or "Group Ten") is pleased to announce it has entered an agreement to acquire a 100% interest in the Stillwater West project, consisting of 282 claims adjacent to, and contiguous with, Sibanye Gold's Stillwater mine in south central Montana, USA. Sibanye acquired the operation, which is the highest-grade platinum group element (PGE) producer in the world and the largest outside South Africa and Russia, through a US$2.2 billion acquisition of Stillwater Mining Co. in May 2017. Group Ten's acquisition of the highly prospective Stillwater West project positions the Company as the second-largest land holder in the Stillwater Igneous Complex. The acquisition includes a substantial exploration database that is currently under review by the Group Ten technical team. Updates on these efforts are expected in the coming weeks.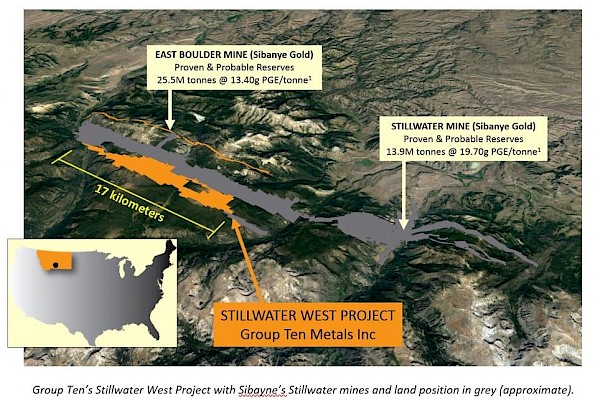 The Stillwater and East Boulder mines occur along the Johns-Manville (J-M) Reef, the richest PGE deposit in the world with over 19.9 million ounces of proven and probable palladium and platinum ore reserves at an average grade of 15.64 grams/tonne)1. Group Ten's Stillwater West project covers over 2,200 hectares (22 square kilometers) in two claim groups with each parcel including over 17 kilometers of strike length parallel to the J-M Reef within the Stillwater complex. Past work on the project resulted in the identification of multiple targets with a primary focus on high-grade PGE and gold deposits as well as generating significant geological and exploration data which will be instrumental in Group Ten's advancement of the project.

1Sibanye and February 2017 Corporate Presentation and Company filings available on www.sedar.com Total Proven and Probable Montana reserves as of December 31, 2015 of 39,427,000 tonnes grading 15.64 grams/tonne for 19,911,000 contained ounces.
Group Ten is further pleased to announce that Mr. Justin Modroo, a professional geologist and geophysicist based in Montana, will join the Company's team for the Stillwater West project and will bring his considerable expertise in ultramafic systems to Group Ten's other PGE projects, including the Company's Wellgreen-area Ni-PGE assets in the Kluane Ultramafic Belt of Canada's Yukon Territory.
President and CEO Michael Rowley comments "We are excited to have secured such prospective ground in one of the premier PGE producing districts in the world, where Group Ten now holds the second largest position in the Stillwater complex. We are also pleased to have been able to concurrently retain local expertise and a substantial exploration database to guide our efforts there. The Stillwater West project significantly expands our exposure to palladium and platinum, which continue to show strong fundamentals going forward. Palladium specifically has been a leader in the precious metals markets as one of the top performing commodities in 2017."
Past work on the Stillwater West project includes broad soil and rock geochemical sampling, geologic mapping and some initial drilling. Results of these programs demonstrate the occurrence of multi-kilometric scale areas of highly anomalous palladium, platinum, gold, copper and nickel values in soil and rock samples.
By the terms of the agreement, the Company may earn a 100% interest in the Stillwater West project from Picket Pin Resources LLC, a private Montana company, by completing the following (all US currency):
issue a total of 3.6 million shares of the Company starting with 900,000 shares within ten days of regulatory approval and 900,000 shares on or before May 31 of each of 2018, 2019, and 2020;
complete $40,000 in cash payments with $20,000 on or before each of May 31, 2018 and 2019;
make advance royalty payments until commencement of commercial production of $15,000 within ten days of exchange approval, $30,000 on or before May 31, 2018, and $50,000 on or before May 31, 2019 and annually thereafter; and
execute a work contract for a minimum of $50,000 per year for the duration of the option agreement for technical and management work.
Upon completion of the option agreement, Group Ten would own 100% of the property subject to a 2% NSR royalty with a buy-down provision to purchase 1% of the NSR for $2 million. The issuance of shares per the agreement is subject to regulatory approval.
Mr. Rowley further noted, "The acquisition follows our strategy of acquiring high-quality assets in world-class districts and complements our portfolio of holdings in the Kluane Ultramafic Belt in Yukon adjacent to Wellgreen Platinum, and in the Rainy River district of Ontario adjacent to First Mining Finance's Goldlund project. We look forward to engaging with Mr. Modroo and the local technical team. Regular updates are anticipated as we continue our data analysis and plan exploration for the project."
Quality Control and Quality Assurance
Garth Kirkham, P.Geo., is the qualified person for the purposes of National Instrument 43-101, and he has reviewed and approved the technical disclosure contained in this news release.
About Group Ten Metals Inc.
Group Ten Metals Inc. is a Canadian mineral exploration company focused on the acquisition and development of high-quality platinum, palladium and gold exploration assets in North America. The Company's suite of holdings include large land positions adjacent to Sibanye's Pd-Pt Stillwater mine in Montana and Wellgreen Platinum's Ni-PGE project in the Yukon Territory, and the Black Lake-Drayton gold project in the Rainy River district of northwest Ontario.
On Behalf of the Board of Directors
GROUP TEN METALS INC.
"Michael Rowley"
Michael Rowley, President, CEO & Director
Email: info@grouptenmetals.com
Web: http://grouptenmetals.com
Tel: (604) 357 4790
TF: (888) 432 0075
Forward-Looking Statements
Forward Looking Statements: This news release includes certain statements that may be deemed "forward-looking statements". All statements in this release, other than statements of historical facts including, without limitation, statements regarding potential mineralization, historic production, estimation of mineral resources, the realization of mineral resource estimates, interpretation of prior exploration and potential exploration results, the timing and success of exploration activities generally, the timing and results of future resource estimates, permitting time lines, metal prices and currency exchange rates, availability of capital, government regulation of exploration operations, environmental risks, reclamation, title, and future plans and objectives of the company are forward-looking statements that involve various risks and uncertainties. Although Group Ten believes the expectations expressed in such forward-looking statements are based on reasonable assumptions, such statements are not guarantees of future performance and actual results or developments may differ materially from those in the forward-looking statements. Forward-looking statements are based on a number of material factors and assumptions. Factors that could cause actual results to differ materially from those in forward-looking statements include failure to obtain necessary approvals, unsuccessful exploration results, changes in project parameters as plans continue to be refined, results of future resource estimates, future metal prices, availability of capital and financing on acceptable terms, general economic, market or business conditions, risks associated with regulatory changes, defects in title, availability of personnel, materials and equipment on a timely basis, accidents or equipment breakdowns, uninsured risks, delays in receiving government approvals, unanticipated environmental impacts on operations and costs to remedy same, and other exploration or other risks detailed herein and from time to time in the filings made by the companies with securities regulators. Readers are cautioned that mineral resources that are not mineral reserves do not have demonstrated economic viability. Mineral exploration and development of mines is an inherently risky business. Accordingly, the actual events may differ materially from those projected in the forward-looking statements. For more information on Group Ten and the risks and challenges of their businesses, investors should review their annual filings that are available at www.sedar.com.
Neither the TSX Venture Exchange nor its Regulation Services Provider (as that term is defined in the policies of the TSX Venture Exchange) accepts responsibility for the adequacy or accuracy of this release.
Limited to, economic, competitive, governmental, environmental and technological factors that may affect the Company's operations, markets, products and prices. Readers should refer to the risk disclosures outlined in the Company's Management Discussion and Analysis of its audited financial statements filed with the British Columbia Securities Commission.
Neither TSX Venture Exchange nor its Regulation Services Provider (as that term is defined in the policies of the TSX Venture Exchange) accepts responsibility for the adequacy or accuracy of this release.