December 11, 2017 – Vancouver, BC – Group Ten Metals Inc. (TSX.V: PGE; US OTC: PGEZF; FSE: 5D32) (the "Company" or "Group Ten") is pleased to announce it has completed the requirements for earn-in of the Spy PGE-Ni-Cu property per the agreement announced September 14, 2015. The Company also reports that it acquired an additional 15 claims by direct staking in 2017, adding to past staking efforts which have more than tripled the property from its original size.
The 100%-owned Spy property consists of 201 claims covering over 41 square kilometers within the Kluane Mafic-Ultramafic Belt; a belt of PGE-Ni-Cu deposits which are part of a sequence of mafic-ultramafic rocks that extends through the Yukon from northern British Columbia to central Alaska1. The Spy property is a key part of Group Ten's overall Kluane PGE-Ni-Cu Project which consists of the Spy, Ultra and Catalyst properties, all of which are within 15 km of the Alaska Highway. The Kluane project properties are on trend with, and south of, the Wellgreen deposit, which hosts one of the largest undeveloped PGE-Ni-Cu deposits in North America at 6 Moz of Pt+Pd+Au and 3 Blbs of Ni+Cu in M&I resources and an additional 2 Moz of Pt+Pd+Au and 1 Blbs of Ni+Cu in Inferred resources2.
Figure 1 - Spy Property within Kluane PGE-Ni-Cu Project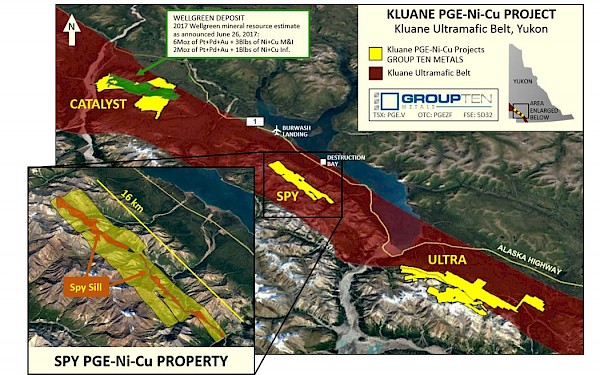 Exploration on the Spy property has demonstrated that PGE-Ni-Cu mineralization occurs as disseminated to massive sulphides associated with mafic to ultramafic intrusions. Massive sulphide mineralization typically occurs near the basal contact and can also occur within the cores of larger ultramafic bodies. The ultramafic Spy Sill is typically 75-100m thick at the surface, with grab samples from the massive sulphide lenses assaying as high as 3.1 g/t Pt, 1.4 g/t Pd, 1.0 g/t Au, 3.1% Ni and 2.8% Cu from the mafic gabbro, and 75.8 g/t Pt, 7.9 g/t Pd, 7.0 g/t Au, 2.6% Ni and 10.45% Cu from the footwall siltstone (Tulk, 2001)3.
To date the highest-grade mineralization encountered at the Spy property has been associated with massive to strongly disseminated sulphides in the basal zone and the footwall siltstones, with disseminated mineralization found throughout the sill and into the country rocks. Several showings of massive and disseminated mineralization are exposed intermittently at surface over a strike length of 1.5km between the 99 and Sweet 16 showings with the Solo and South Spy showings indicating that mineralization remains open to the south. Further exploration is planned to test the full extent of mineralization in the area.
Michael Rowley, Group Ten Metals' President and CEO, stated "We are pleased to have completed the earn-in requirements for 100% of the Spy property, and to have expanded that land position more than threefold to include over 16km of strike length on this highly-prospective system. Based on exploration to date, there are many similarities in the style of mineralization with the multi-million-ounce Wellgreen deposit to the north but Spy has shown significant high-grade potential. Of particular note are the elevated PGE, nickel and copper grades associated with the basal sulphides. There is a scarcity of attractive PGE-nickel sulphide deposits of scale outside of Russia and South Africa and we see excellent potential for both large-scale and attractive grades in the Yukon's Kluane belt. Our Kluane PGE-Ni-Cu Project is the largest land position in this emerging PGE-Ni-Cu district and we look forward to continuing to advance their potential as we plan our 2018 activities."
1 - Hulbert, L.J., 1997. "Geoloy and metallogeny of the Kluane mafic-ultramafic belt, Yukon Territory, Canada: Eastern wrangellia – A new Ni-Cu-PGE metallogenic terrane." Geological survey of Canada Bulletin 506.
2 - Based on 2017 Wellgreen Platinum mineral resource estimate as disclosed in a news release dated June 26, 2017 and available under the company's profile on Sedar.com
3 - Tulk, L.A., 2001. "Report on geological and geochemical surveys on the Kluane property." Yukon Assessment Report 094164.
Quality Control and Quality Assurance
Ms. Debbie James, P.Geo., is the qualified person for the purposes of National Instrument 43-101, and she has reviewed and approved the technical disclosure contained in this news release.
About Group Ten Metals Inc.
Group Ten Metals Inc. is a Canadian mineral exploration company focused on the acquisition and development of high-quality platinum, palladium, nickel, copper and gold exploration assets in North America. The Company's holdings include the Stillwater West PGE-Ni-Cu project adjacent to Sibanye-Stillwater's high-grade Pd-Pt mines in Montana, the Kluane PGE-Ni-Cu project adjacent to Wellgreen Platinum in the Yukon Territory, and the Black Lake-Drayton Gold project in the Rainy River district of northwest Ontario.
On Behalf of the Board of Directors
GROUP TEN METALS INC.
"Michael Rowley"
Michael Rowley, President, CEO & Director
Email: info@grouptenmetals.com
Web: http://grouptenmetals.com
Tel: (604) 357 4790
TF: (888) 432 0075
Forward-Looking Statements
Forward Looking Statements: This news release includes certain statements that may be deemed "forward-looking statements". All statements in this release, other than statements of historical facts including, without limitation, statements regarding potential mineralization, historic production, estimation of mineral resources, the realization of mineral resource estimates, interpretation of prior exploration and potential exploration results, the timing and success of exploration activities generally, the timing and results of future resource estimates, permitting time lines, metal prices and currency exchange rates, availability of capital, government regulation of exploration operations, environmental risks, reclamation, title, and future plans and objectives of the company are forward-looking statements that involve various risks and uncertainties. Although Group Ten believes the expectations expressed in such forward-looking statements are based on reasonable assumptions, such statements are not guarantees of future performance and actual results or developments may differ materially from those in the forward-looking statements. Forward-looking statements are based on a number of material factors and assumptions. Factors that could cause actual results to differ materially from those in forward-looking statements include failure to obtain necessary approvals, unsuccessful exploration results, changes in project parameters as plans continue to be refined, results of future resource estimates, future metal prices, availability of capital and financing on acceptable terms, general economic, market or business conditions, risks associated with regulatory changes, defects in title, availability of personnel, materials and equipment on a timely basis, accidents or equipment breakdowns, uninsured risks, delays in receiving government approvals, unanticipated environmental impacts on operations and costs to remedy same, and other exploration or other risks detailed herein and from time to time in the filings made by the companies with securities regulators. Readers are cautioned that mineral resources that are not mineral reserves do not have demonstrated economic viability. Mineral exploration and development of mines is an inherently risky business. Accordingly, the actual events may differ materially from those projected in the forward-looking statements. For more information on Group Ten and the risks and challenges of their businesses, investors should review their annual filings that are available at www.sedar.com.
Neither the TSX Venture Exchange nor its Regulation Services Provider (as that term is defined in the policies of the TSX Venture Exchange) accepts responsibility for the adequacy or accuracy of this release.