April 6, 2017 – Vancouver, BC – Group Ten Metals Inc. (TSX.V: PGE; FSE: 5D32) (the "Company" or "Group Ten") is pleased to announce the acquisition by direct staking of an undivided 100% interest in five mining claims at the Black Lake-Drayton project in northwestern Ontario. This strategic addition connects First Mining Finance's (TSX.V: FF) Goldlund project, to the west, with Group Ten's Black Lake-Drayton project, to the east. The addition of this 928-hectare land package increases the Company's total land position in this highly prospective and active mining and exploration region to approximately 8,900 hectares (89 square kilometers or 35 square miles).
Group Ten President & CEO, Michael Rowley, commented "We are very pleased to have secured such highly-prospective ground adjacent to the advanced Goldlund project. First Mining Finance has stated Goldlund will be a core asset and currently have a 27,000-meter drill program underway on the project. Our Black Lake-Drayton property continues 30 kilometers along strike to the northeast and, as recent and historic work demonstrates, features the same Sioux Lookout Deformation Zone geology. Ongoing success by both First Mining and neighbouring Treasury Metals provides invaluable insights into geological modelling and exploration strategies that will enhance our ability to execute an effective field program at Black Lake-Drayton."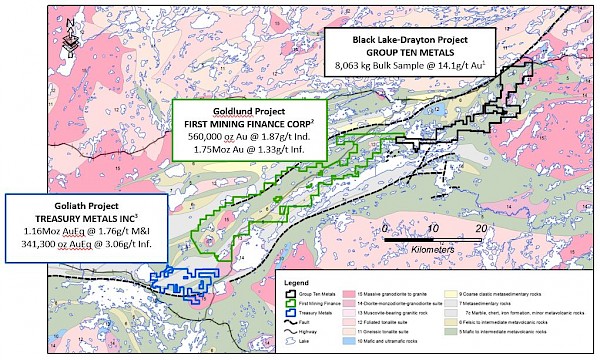 Historic result not independently verified by Group Ten Metals Inc.
Goldlund mineral resource figures based on "Technical Report and Resource Estimation Update on the Goldlund Project" dated February 7, 2017, available under First Mining Finance's profile at sedar.com.
Goliath project mineral resource estimate based on "Technical Report and Updated Resource Estimate for the Goliath Gold Project", effective August 28, 2015, available under Treasury Metals' profile at sedar.com.
The new claims include five historic gold occurrences listed in the Ontario Ministry of Northern Development and Mines' database, summarized as follows:
| | |
| --- | --- |
| Mineral Occurrence | Historic Results |
| Hi Grade Vein | Surface & chip sampling in 1991 returned up to 136.84 g/t Au |
| WW Vein | Grab samples in 1951 returned up to 22.39 g/t Au |
| Island 406 | Grab samples in 1981 returned up to 3.42 g/t Au and 52.56 g/t Ag |
| Forster Vein | Grab samples in 1951 returned up to 3.73 g/t Ag |
| Diorite Vein | Grab samples in 1951 returned up to 0.93 g/t Au |
While these samples represent historic information that has not been independently verified by the Company, they demonstrate the presence of mineralization and provide high-priority target areas for future exploration activity.
Project Overview
The Black Lake-Drayton project is comprised of a 30+ kilometre-long claim group located in the Abrams‐Minnitaki Lake archean greenstone belt, along the northern margin of the Wabigoon sub-province. This highly-active gold belt is host to a number of well-known deposits including Goliath (Treasury Metals), Goldlund (First Mining Finance) and Rainy River (New Gold), all of which have seen substantial recent expansions, among others.
The Abrams‐Minnitaki Lake greenstone belt is south of and parallel to the Birch-Uchi belt, another archean greenstone belt that is home to a number of high-grade gold producers including Goldcorp's Red Lake mines. Despite its proximity to the Red Lake area and the Birch-Uchi belt, the Abrams-Minnitaki greenstone belt remained underexplored into the 1990s due to persistent ground cover and limited road access. In the past two decades, new roads and improved exploration techniques have led to the delineation of multiple multi-million-ounce high-grade gold reserves on numerous projects in the belt.
The Drayton-Black Lake project includes an archive database with 20 historic occurrences, multiple high-grade bulk samples and over 120 drill holes, in addition to geological, geochemical and geophysical data. Although 43% of past drill holes intercepted gold or copper mineralization, they did not adequately test the mineralized zones which are now better understood in the area.
Group Ten conducted a modest 7-hole, 530-metre drill program in late 2016, as the first phase of a larger 2,000-meter drill program, in order to test targets generated in modeling work earlier that year (see March 7, 2016 news release). Results of this activity, expected to be released in April 2017, will provide additional guidance for future exploration.
The technical contents of this release with respect to the Black Lake-Drayton project were reviewed and approved by E. Max Baker, Ph.D., P.Geo., Project Manager of the Drayton-Black Lake project and Qualified Person as defined by National Instrument 43-101.
About Group Ten Metals Inc.
Group Ten Metals Inc. is a Canadian mineral exploration company focused on the acquisition, development and incubation of platinum group metals (PGM), gold, nickel and copper deposits in North America. The Company's core holdings include a large land position adjacent to, and along trend with, Wellgreen Platinum's Wellgreen Ni-Cu-PGM project in the southwest Yukon Territory and the Black Lake-Drayton gold project in the Rainy River district of northwest Ontario.
On Behalf of the Board of Directors
GROUP TEN METALS INC.
"Michael Rowley"
President & Director
info@grouptenmetals.com
Tel: (604) 357 4790
TF: (888) 432 0075
Statements which are not purely historical are forward-looking statements, including any statements regarding beliefs, plans, expectations or intentions regarding the future. It is important to note that actual outcomes and the Company's actual results could differ materially from those in such forward-looking statements. Risks and uncertainties include, but are not limited to, economic, competitive, governmental, environmental and technological factors that may affect the Company's operations, markets, products and prices. Readers should refer to the risk disclosures outlined in the Company's Management Discussion and Analysis of its audited financial statements filed with the British Columbia Securities Commission.
Neither TSX Venture Exchange nor its Regulation Services Provider (as that term is defined in the policies of the TSX Venture Exchange) accepts responsibility for the adequacy or accuracy of this release.